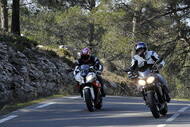 TIPS AND ADVICE FOR MOTORBIKE
Are you wondering how to choose tyres for your motorcycle, whatever your use?
Not sure when or how to change them?
In this section, you will find the answers to these questions, as well as a lot of advice on all motorbike topics, pressure, equipment and even on how to drive safely on the road.
Call us
0800 03 18 633 for United Kingdom / 

0180 05 54 162 for Ireland

Monday- Friday 
9am-6pm local time
Your local dealer will be happy to help you find the best tyre for your needs and give you advice.